Exercise Equipment to Lose Weight Review
Over the years, I have used various exercise equipment. The ones I consider the best are because of their ease of use.
Below I describe what I consider good exercise equipment that I feel is worth investing in. Due to my limited time during the day, I prefer to stop work and switch over to exercise quickly.
As I mentioned earlier in my blog, nothing beats walking. When I can take a stroll outside, I ensure I do. When I am limited to it, usually because it is raining outside or working longer hours, I use my Treadmill. I made sure to get one for this reason.
Treadmill – Weslo Cadence
Throughout my life, I have had two Treadmills. The first was an all built-in monster of a machine. It had all the features the regular machines do and a bit more. When I say monster, I mean that. That's because this machine was massive and heavy.
I had to move out to a smaller apartment, and because it was so big and took up so much room, I decided to sell it and purchase a smaller version.
The new machine was more compact but had similar if not the same features as the larger one. The difference was that it wasn't as tall or wide and didn't take up the same amount of space. I worked perfectly in the smaller apartment.
The new Treadmill, which I use often, is a Weslo Cadence. It is very sturdy and can also be used for running. It has ten programmed exercise settings. One is to burn calories, and the other to burn fat. The display provides the miles per hour walked, calories burned, and speed. Heart rate readings are accessed by placing a thumb on the display heart monitor. It folds down or up and can be moved by pushing it on small wheels. It allows for 220 lbs of weight.
On a 1 to 10 rating, I give this machine a 7. It serves its purpose and has worked well for me for the three years I have owned it. I use it primarily for walking. Once in a while, I do jogging or HIIT sprinting on it.
Craftmanship and durability I will rate a bit lower because this is not a top of the line machine. It also is not one of those automatic change of level machines. I have to change the level manually. You can purchase it at it's lowest price on Walmart at $298. A similar model is available in Amazon from the Sunny Health Brand if this one is not available for purchase. It runs for approximately $409.26.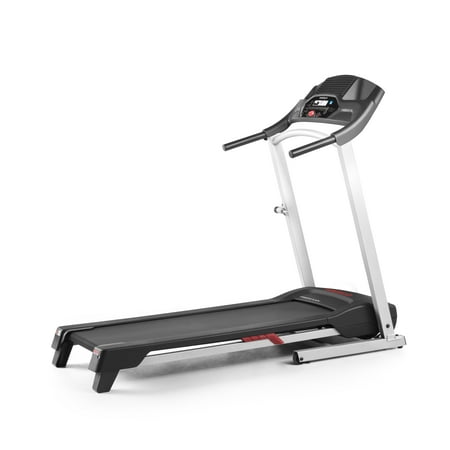 If you are a runner, this may not be the best choice. A higher grade machine is more suitable for severe running and withstanding of repeat use, impact, and more prolonged use. This would mean higher investment. Machines such as those built and produced by Norditrack such as the NordicTrack Commercial Series fits this description.
Exercise Bicycle – ProForm
The ProForm 230 U Exercise Bike with Silent Magnetic Resistance – SMR, is an excellent piece of equipment I use intermittently with my treadmill. It features a display that gives you calories burnt, speed, and distance readings. It also has a heart rate monitor that senses pulse through the handles by placing your thumbs on the sensor. It has programmed calories routine settings and watts settings. The chair adjusts so you can make it higher or lower depending on your needs.
I can do fast pedaling on this machine. It is an upright machine. I like this because I can stand when I need to when the resistance is higher, as when simulating a going uphill movement or run. The resistance settings are changed easily on the display with the touch of a button. And, it is truly silent, no noise from the change of resistance. It has a water bottle holder.
I rate this machine a 7. It is a lower grade machine but does its job if what you want is a programmed setting exercise or a 30-minute high low interval exercise. It does not allow for movement of the handrail, nor does it extend as those used in gyms in spin classes. It comes at a very affordable price and is the cheapest in Walmart at $390.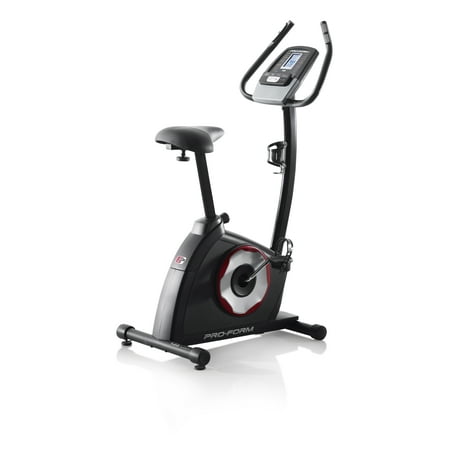 For a hardcore biker to train on, a higher grade and brand bike would be preferable. They would be better at withstanding wear and tear and repeated use and would be more durable. The NordicTrack Commercial Studio Cycle is an option for this need.
I use to own a larger recumbent bike, but the display went bad about a year after I bought it. I did not feel it allowed for an upright bike's same exercise experience since you constantly have to be sitting to exercise. I thought it was more a workout for my legs and didn't feel it activated my chore (stomach muscles) the way this bike does. I sold it to purchase this bike instead.
Resistance Bands
I have owned a few resistance bands in my life, but these are the ones that have lasted. The ones I owned before often broke right at the handle after a while. I would tie them back together or loop them around the handle to hold me up until I purchased new ones. With these, I don't have to worry about that anymore. That is the feature I like about them the most. And, the handle can be removed and attached to all the bands that come in the set. That's a great advantage.
With this design, you get five bands, 10 to 50 lbs, for the price of one. You can also attach more than one at a time to add weight and resistance.  They come with ankle bands and a block for doorways for exercise variations. I rate these an 8, and the only reason is that I feel they are not weights like those used for traditional weightlifting. If you have an injury and cannot use that type of weight, these are excellent. They even bring a carry bag so you can take  them with you on trips. I found the most affordable at Amazon:
Weights
Weights are preferred, especially for serious weightlifting exercise sessions. They are widely known for muscle building and were traditionally used for many years before resistance bands began showing up in the market. For the serious trainer, a traditional set will work best. I am not a hardcore weight lifter, but at my age, I do lose muscle easier. I have a combination of weights and resistance bands. I have not yet gone over 30 pounds but do put in a 20-minute workout every other day with weights. There is a myriad of weight equipment that can be found in Amazon and many online sites. I use an older set, and some of the more popular ones readily found in most stores.  I have the smaller weights sets and have worked up to 10 pounds. I rate them a good 9 only because I have used others in a gym when I have traveled for work, and those are definite 10. There are affordable sets in Amazon:
Back Support Floor Mat – Solofit Ab Exercise Mat
When I exercise my core, I do floor ab exercises often.  I like to do them on this ideal mat that supports the tailbone and my back. It prevents the pocket and arch that we tend to form when we exercise our abs on the floor.  It is perfect for this type of exercise and prevents injury to your back and tailbone. It is very affordable. I rate this a 10.  Details for this mat – Cheapest in Amazon:
Getting Ready to Exercise – Best Exercise Attire Review
To prepare for an exercise session, I do ensure I do a few things to make them as comfortable and effective as possible. Below are some of the things I do to get ready for an exercise session.
Dress in Exercise Attire – This is not a surprise since using an exercise bicycle, the degree of movement when performing aerobics exercises, and the constant stretching when we exercise requires comfortable clothing. I, of course, prefer the cotton absorbing type. Many brands have focused on manufacturing pieces to fulfill that need. I dress up in Athletic and Workout Wear that includes various pieces, including leggings, yoga shirts, and exercise bras. It is essential to be dressed for the occasion, especially for this type. I wouldn't want my jeans to get trapped on my exercise bicycle pedals and cause me a fall and tear my nice clothing. I also wouldn't want to tear my lovely work trousers when squatting. It's just not made for that. I particularly like the Baleaf clothing and running jacket
I give that one a 10. I just love the feel, that it makes me sweat, and is easy to clean. Check other Amazon.com : exercise clothing that is worth taking a look at.
Bring All Supplies Needed to Exercise – Best Exercise Supplies and Devices Review
From music to water, we do need certain things handy while we exercise. Below is a list of things I bring along when I am going to engage in an exercise routine:
Towel – Preferably a medium cotton hand towel similar to those found in the gym. They are absorbing and can help keep you from slipping and falling if you wet the floor a lot while sweating.
Water Bottle filled with water – Elvira 32oz Motivational Fitness Sports Water Bottle with Time Marker: I love this bottle. The reason is that drinking water is one thing I have a constant challenge keeping up with daily. This bottle helps me reach my hydration goals and needs.
I love the messages because they remind me to hydrate and motivate me to keep drinking. The colors are so bright and get me in a happy mood. It is a great bottle, especially for those who have trouble getting motivated to drink water. I rate this bottle a 9. That is because I have seen the one that vibrates to remind you to drink water and has a light. If I had that I would probably rate it a 10, so long as it did not present any other early signs of problems. Check out the Motivational Fitness Water Bottle in Amazon:
Music Speaker (if won't use earphones): Alexa Echo Dot: 4th Generation: A smart speaker is a significant advantage considering all the great things it can do for you. This speaker is an excellent alternative to earphones or earbuds when I don't feel like using them. Plus, it responds to my requests. If I want it to play music, all I have to do is command it to play it. And it also can tell me the weather, play the news and many other things. Plus it can control my home. I use it more for exercising, especially when I am pressed for time. I like the light at the bottom. It keeps a nice little glow at night and works as a night light when you move around the house in the dark, illuminating the way. I rate this speaker an 8 because I have the 3rd generation one and find they are about the same. I find the 3rd generation just as good or even better in the sound quality. These are very affordable at Amazon:
Earphones for music – Phaiser Wireless Earphones: This is a nice set of wireless earphones that I use when exercising. They are Bluetooth so that I can connect them to my Apple iPod without cables. They can also connect to the TV, laptop, tablet, or other Bluetooth devices. They have ear hooks, so they will stay steadily in my ears as I move. I like the design because it stays in place behind my neck as well. They are lightweight and have a lifetime sweatproof warranty. The warranty replaces them if they ever get damaged by sweat. I rate these an 8 because the battery does not last as long as I would like. Still, the Apple Earbuds Earphones are just as good and my other choice.
Device to play music – Apple Ipod Touch: You're probably wondering why I would spend money on one of these if I could get the cell phone that also plays music. That is true. My reason is that my cell phone battery gets drained quicker when I use it to exercise. I have a limited time to get my exercise in, in the morning, and then I use my cell phone for work as well, so I prefer keeping my cell phone battery charged and use the iPod for exercising. It is just as great as the phone and works just as nicely. It is also very affordable. I rate this a 9 because it's not a cell phone and cannot receive calls as a cell phone can. One of the best priced is found on Amazon:
Yoga Floor Mat: Yoyi Travel Yoga Mat with Carrying Case: Traditional exercise does not usually require a floor mat, but I prefer using one, especially when I stretch and do aerobic exercises. This is because my floor is tiled (it is an older house. I eventually moved to one), and they are slippery. I find this Yoyi Yoga Mat fits my needs nicely. It has lasted me a couple of years without much evidence of wear and even comes with a travel case to take it with me. Of course, it is great for Yoga. I give it an 8 from 10. You can get your own at a reasonable price at Amazon: