Best Diet Shake to Lose Weight
The trend these days for many to lose weight is to drink shakes. Some are replacing a meal, and others are to help with exercise performance. Whatever they are for, this has become a popular item to aid with weight loss. Not to mention, it's a quick grab and go, especially for those who don't have time to make breakfast or must skip a full-size lunch.
What is the best diet shake to lose weight? Below I share my findings on these now everyday norm supplements to our diet and my results as I incorporated them in my weight loss journey.
Protein Shakes
According to PubMed, "proteins are nitrogen-containing substances that are formed by amino acids. They serve as the major structural component of muscle and other tissues in the body. In addition, they are used to produce hormones, enzymes, and hemoglobin".
Protein can come from animals, vegetables, or plants. It is usually consumed as a powder mixed with water or another type of liquid or from food. The most popular way to add protein to a diet is as powder since it is already made and readily available for purchase.
Whey is the liquid part of milk. Casein is the other protein that comes from milk. There is also vegetable protein such as Soy. Foods can be eggs, meat, fish, or poultry.
A protein shake does not have the nutrients found in a meal. For example, it does not contain vitamins or minerals.  Therefore, it does not serve as a meal replacement and is used to help increase the consumption of protein.
Protein shakes are usually popular among athletes. Bodybuilders, in particular, are the largest consumers of protein and protein shakes.  A study showed that protein is effective in maintaining muscle mass and boosting metabolism. Other research shows that protein helps with losing belly fat.
What I found to be most common of all protein powders when I read the labels is that they are to be consumed before and after an exercise routine. Once mixed with water, or whatever liquid it is mixed with to create the shake, it is meant to help replace muscle lost during the exercise.
My experience with these was not all that favorable. Most of the time, the mix was super sweet. That alone discouraged me from adding protein to my diet. I tried it out for only a month. I don't remember feeling any energy boost neither before nor after I drank the mix, and when I did, it lasted a short period. Being that I did not keep at it for too long, I cannot attest to whether I replaced muscle. I did not add the powder to a fruit or other type of shake. I tried drinking the plain mix. That may be where I made a mistake. It's possible that adding the powder to a shake would have been a way to change or add to the flavor.
I have heard many positive reviews about protein, and studies show its effectiveness. Although my last try was not favorable for me, I didn't try it long enough to see a result. I plan to try it once more.  My friends and family who regularly include protein in their diet have shared that their secret is the 4Life protein products. Learn more by visiting the link on 4Life or here.
Fruit shakes, on the other hand, are super delicious. My experience with them, although favorable, also had its drawback.
Fruit Based Shakes, Green Shakes, or Smoothies
Fruit-based shakes or smoothies are usually a very healthy way to gain vitamins, minerals, and fiber and contain many antioxidants. They can also help with weight loss. They are high on fiber. The fiber, in turn, helps create a healthy gut. According to PubMed, there is research supporting that healthy gut bacteria helps reduce inflammation, promote healthy immune function, and support mental health.
Fruit-based shakes allow for the consumption of the required daily fruit servings. If you don't eat much fruit, these shakes are bound to help you fill up on what you're missing. You may also fill in on missing vegetables since some of them call for ingredients such as spinach. The fruits usually overpower the vegetable taste, and because of that, they continue to be delicious in flavor.
Smoothies or fruit shakes are easy to make and are portable. They are accommodating when there is no time for a full  breakfast. Some are made mainly with green ingredients, and because of that, they are green in color and are called green smoothies. Some of these ingredients are spinach and avocado. Yet others are added green powders that contain the vegetables desired. The powder overpowers the other ingredients, and that is how it acquires its green color.
My experience with these shakes or smoothies was very positive. I made them with banana, almond milk, almonds, oats, mango, strawberries, blueberries, spinach, and sometimes avocado. They were tasty and thick, which I love. I drank them for breakfast for some time at one point when I began my weight loss journey. I also added one vegetable powder to it, the NATURELO Raw Greens Superfood Powder.
When I made this smoothie with the NATURELO Raw Greens Superfood Powder for the first time, I felt extremely rejuvenated and so light within a couple of hours.  At the time,  I was having extreme pains in my right arm for approximately four months.
After I drank the shake, I felt terrific and had already felt the pain in my arm receding.  I know it was due to the powder because I had not felt that way before I added it to the smoothie.  My continued consumption of this powder truly helped me finally begin walking the road to healthy living. Other green powders such as organic greens as shown in the picture are great ways to add more fruits and vegetables to your diet.  Click the picture to learn more about it.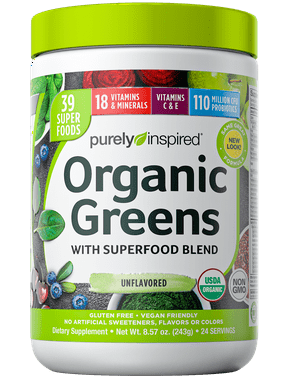 There is one thing to consider, however, when adding smoothies to your diet.  Too much sugar can be an issue.  Fruits have their sugar, and too much of it can do more harm than good.
When adding fruit smoothies to your diet, whether you make them yourself or purchase them ready-made, remember to look into the amount of sugar to understand better how frequently to make or go for this delicious treat.  It is easier to control the sugar content if you make them yourself.  I certainly think they are a great and delightful addition to our diet and will help with our weight loss goals when made with the correct ingredients.
Meal Replacements
A meal replacement is exactly that, a meal that is replaced by some other form of food. It is supposed to be lower in calories but be as nutritional as a regular meal. Some forms of meal replacements are shakes, bars, and frozen meals.
Some confuse protein shakes with meal replacements. Meal replacements, although they have protein, are not the same as protein shakes. As I mentioned earlier, protein shakes are to replace muscle. They do not have the same nutrients as a meal. It is best not to apply them in this fashion.
According to WebMD, studies show that meal replacements allow for the successful loss of weight by its consumers. 
WebMD also confirms that studies show that they help with weight loss of those suffering from metabolic syndrome.
My experience with meal replacements was non-conclusive. I lost weight the few times I tried to follow a diet by replacing meals with shakes. Most of the time, I felt hungry more. Unfortunately, I felt more like I was starving than replacing a meal.   Since I did not see enough weight loss and felt hungry more, I decided to search for other options. That is not to say that is the case for everyone.
What Is The Best Diet Shake to Lose Weight?
The best diet shakes to lose weight are all dependent on what works best individually.  Because we are all made differently, and products work differently for us, we must test and try to find what works for each of us.
I hope sharing my experience helps shed some light on the subject and inspires others to learn more and research to find their best diet shake.
A friendly reminder, exercise is another critical component in the journey to weight loss. What other ways are there to exercise to lose weight? Are there fun ways? Come back to learn more, as I share in my next post.